Khemanandi Meditation Center Malaysia
Objectives:
1. To perpetuate, propagate and practice Theravada Buddhism.
2. Conducting Intensive Meditation retreats.
3. Buddhist religious ceremonies, such as Wesak Day, Kathina etc.
4. Dhamma classes, meditation classes, lectures and discussions.
5. Training program for monks, nuns and 8 preceptors.
Address: Batu 6 ¾ Jalan Kluang, Panchor, 83300 Batu Pahat, Johor, Malaysia.
Contact Number: +60 13 772 4388
Email: KhemanandiMeditationCentre@gmail.com

Special International Meditation Retreats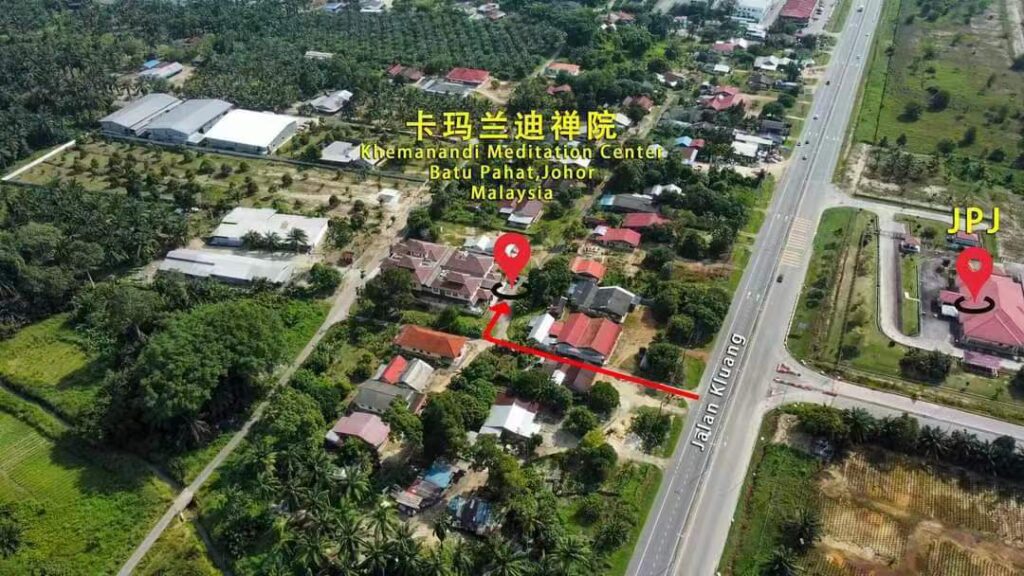 How to go to the Khemanandi Meditation Center by bus?
From Kuala Lumpur International Airport / KLIA2 to Khemanandi Meditation Center Batu Pahat Johor.
Upon arrival at KLIA / KLIA2, proceed to ground floor bus station, purchase ticket from YoYo express to Batu Pahat.
Yogis are recommended to contact Mr Mohan: +6011 36006033 or BP counter
+6016 7422525
for transportation arrangements to the center prior to your arrival at Kuala Lumpur Malaysia.
从吉隆坡国际机场/KLIA2到马来西亚柔佛州的卡玛兰迪国际禅修中心。
抵达吉隆坡国际机场/吉隆坡国际机场2后,前往底层巴士站,购买YoYo快车到峇株巴辖的车票。
建议禅修者与莫汉(Mohan)先生联系: +6011 36006033或BP柜台
+6016 7422525
以便在抵达马来西亚吉隆坡之前安排交通到中心。
Google Maps: Khemanandi Meditation Center, Sri Gading, 83300 Sri Gading, Johor