Venerable Sayagyi Ma Vimalanani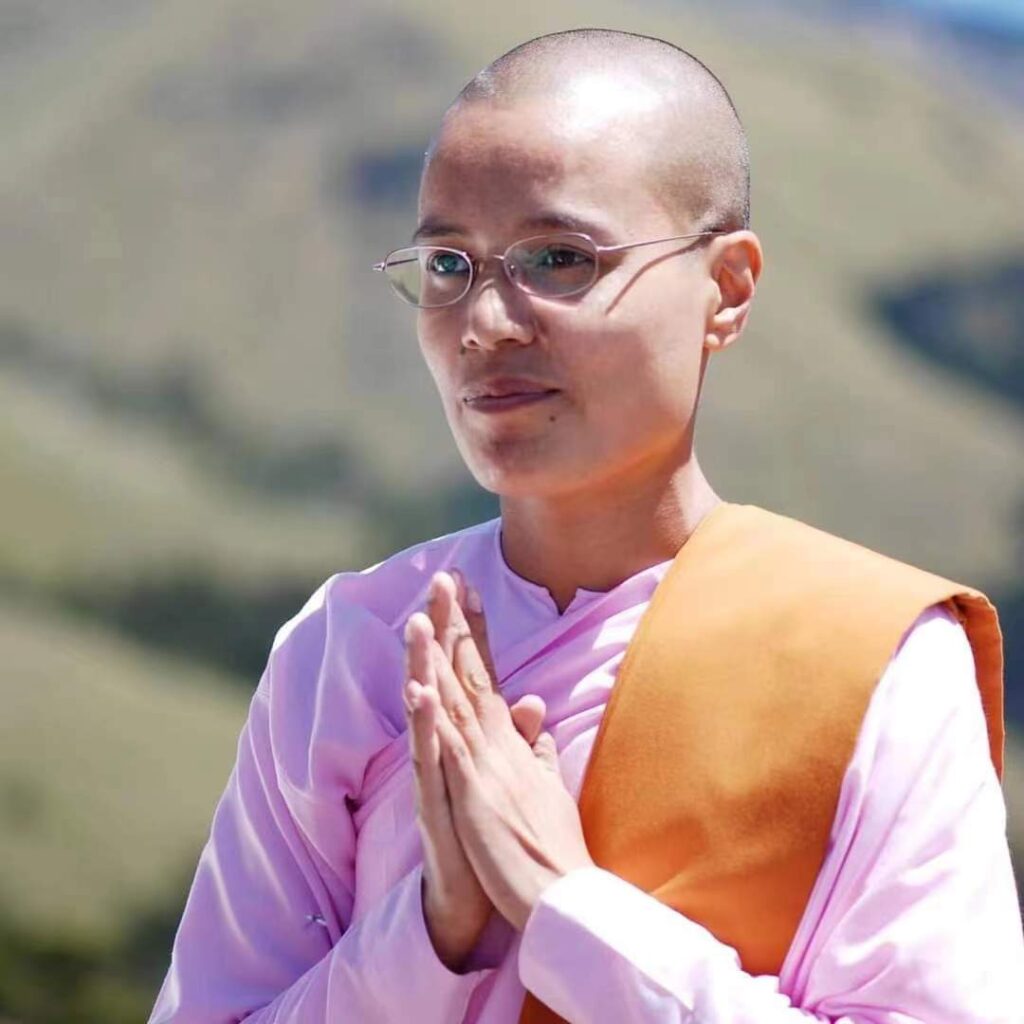 Meditation teacher Sayagyi Ma Vimalanani was born as Ramita Shakya in 1972 in Patan, Nepal as the eldest of four of
Mr. Narendra Raj Shakya and Mrs. Sanu Chhori Shakya.

At eleven, she began to study Buddhism and Vipassana meditation with Venerable Sayagyi Daw Uppalavanna, Chini Guruma. Subsequently, Sayagyi Ma Vimalanani passed the Pariyatti Saddhamma Palaka examination in Nepal, organized by the All Nepal Bhikkhu Association. In her scholastic education she also completed the Intermediate of Science, from Tri Chandra College, Kathmandu.

In 1989, she attended her first ten-day vipassana retreat at International Buddhist Meditation Center (IBMC) in Kathmandu with Sayadaw U Asabhacara. Again, in the following year, when Sawadawgyi U Pandita came to conduct a one-month retreat at IBMC, she practiced vipassana for fifteen days under his guidance.

Inspired by her teacher Chini Guruma and Nepal Sayadaw Nyanapunnika, she asked permission from Sayadawgyi U Pandita to go to Burma, ordain as a nun under him, study the scriptures and practice meditation. And in 1991 set out to do these things. Annually she practiced satipatthana vipassana meditation with Sayadawgyi U Pandita for one, two or three months, aside from times when Sayadawgyi was not available.
Sayagyi Ma Vimalanani studied Burmese language, Buddhist Pali scriptures and sat for the Pali examinations held by the Myanmar government. She passed the first, second and fourth level of the examination with the highest marks, earning first place in the entire nation among the nuns and eventually achieved the Sasanadhaja Dhammacariya degree in 1999. She also sat for the examination held by the Sasana Hitakari Nuns Association, gaining first place in almost every level and achieving the Sasana-Hitakari Dhammacariya degree in 1998, also earning first place.

After completing her own study and practice, she taught Buddhist Pali scriptures for seventeen years to her fellow nuns at Panditarama Meditation Center. In the meantime, she assisted Sayadawgyi as a translator in interviewing yogis during the International Special Retreat for Foreign Yogis and other year-round retreats.

Her first trip with Sayadawgyi U Pandita was for one month to Nepal in 2001 as a nepali translator for retreats held in kathmandu and Lumbini. Beginning in 2003, she accompanied Sayadawgyi to America several times, helping him as a translator during interviews when he conducted retreats at TMC and the Forest Refuge. She also accompanied Sayadawgyi to other countries to help support his satipatthana dhamma journey and also to assist him in with medical check-ups.